Fire and Disaster Management

ALL EMERGENCIES - 0860 88 11 11
Position / Job Description :

Chief Fire and Disaster Management

Name :

Mnr NE Mdluli

Contact number :

023 615 1086

E-mail address:
Vision and Objectives of Department
Disaster Management and Fire Services mission and value statements
We, the members of the Langeberg Municipal Disaster Management and Fire Services department dedicate our efforts to provide for the safety and welfare of the public through preservation of life, property and the environment.
It is the responsibility of each member to support the mission by subscribing to the following values.
For the Community:
We recognize that the community is the reason for our presence.

We value the faith and trust of the community, and continually work to deserve that confidence through our attitude, conduct, and accomplishments.

Lives are more valuable than property.

The safety of the public is of paramount importance, followed closely by the safety of our members.

All members of the public are entitled to our best efforts.
For the Disaster Management and Fire Services Department:
We strive for excellence in everything we do.

Honesty, fairness, and integrity will not be compromised.

We continually seek effectiveness, efficiency, and economy.

Unity and teamwork are stressed as being to our mutual advantage as individuals and as an organization.

Members are continually encouraged to improve themselves as individuals and employees.

The free exchange of ideas is encouraged.

We will provide professional and courteous service at all times.

We are sensitive to changing community needs.
All the services of the department are aligned to Section 84(1)(j) of the Local Government: Municipal Structures Act, Act 117 of 1998, Disaster Management Act No 57. (Act 57 of 2002) and the National Disaster Risk Management Framework.
The department seeks to create a safer environment through the provision of world-class, seamless, and cost-effective emergency services, to all communities of Langeberg Municipality.
This objective is realised through the provision of fire fighting and disaster management services and an effective 24-hour emergency call centre for the Fire Services. Citizens are provided with easy access to emergency services and are assured of a speedy response to emergencies and disaster situations.
The Fire department operates in terms of the Fire Brigade Services Act and its functions are as follows:
To prevent the outbreak and spread of fire.

To fight and extinguish fire.

To protect life and property against fire or other threatening danger.

To rescue life and property from a fire or other dangers.
Disaster Management is a multi-sectoral function, which cuts across all municipal disciplines. In essence disaster management has to do with mitigation, as well as preparedness, relieve, recovery, rehabilitation and reconstruction processes before, during and following large scale events and disasters. It follows that disaster management mitigation plans will be incorporated within the budgets and capital projects of other disciplines, e.g. Civil Engineering, Electro technical Engineering, as well as Environmental Services.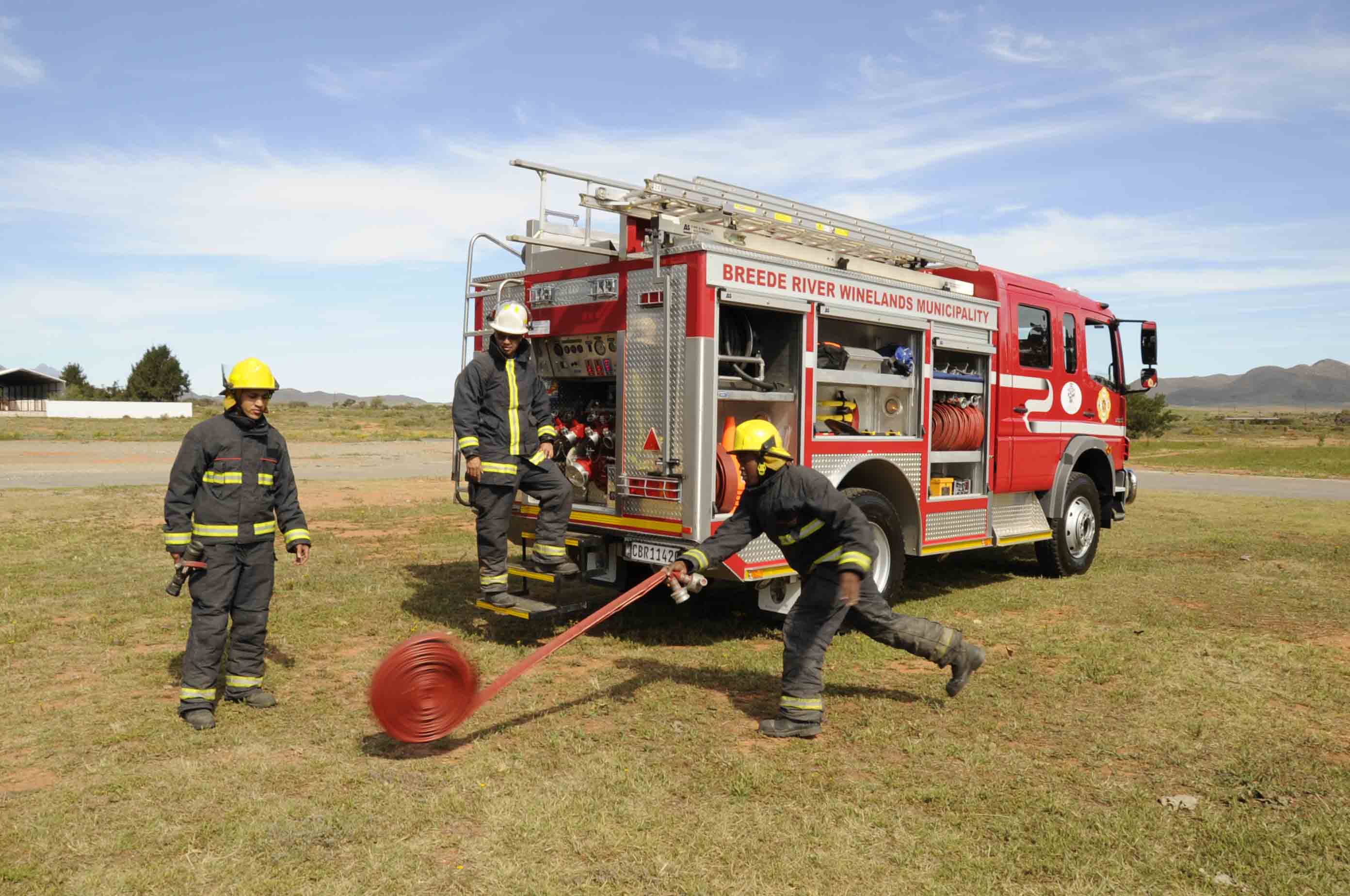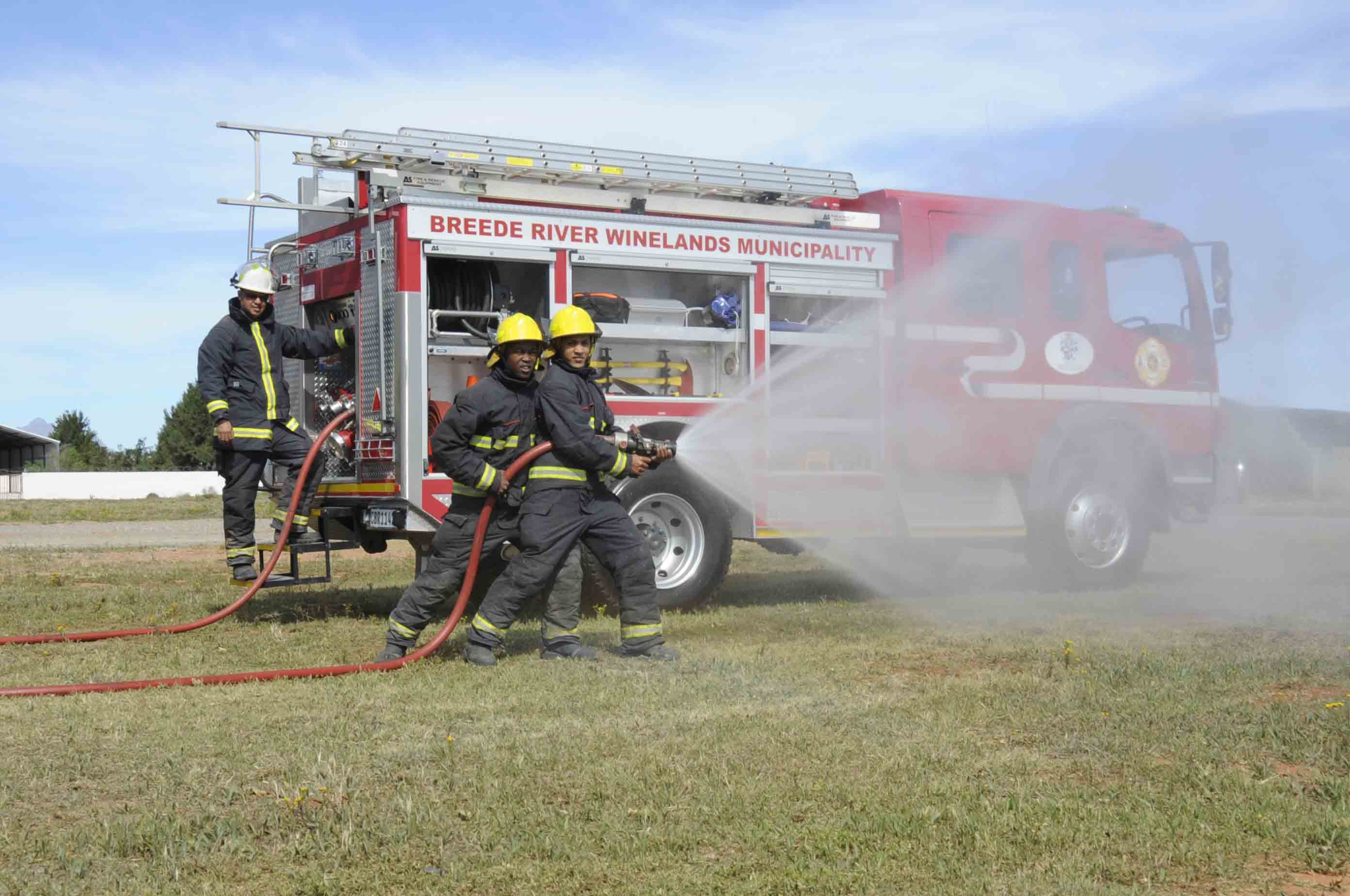 Please click here to view the Plan - pdf Disaster Management Plan