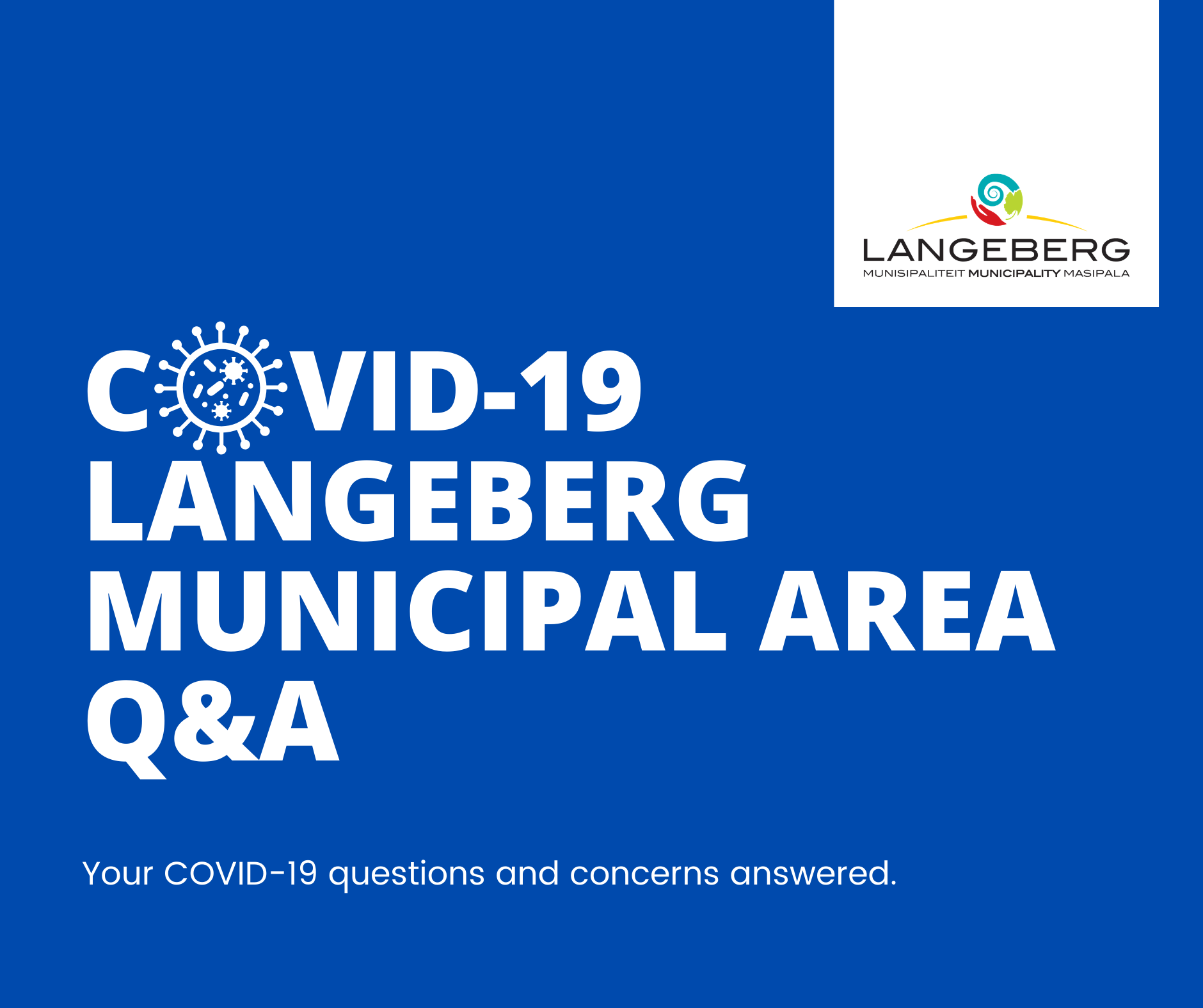 Q&A on COVID-19 in the Langeberg Municipal area
Have COVID-19 tests been done in Montagu & McGregor?
Tests have been done. Western Cape Government Health's healthcare workers continue to screen everyone who visits our facilities and, if needed, the person is tested for COVID-19. During screening you are asked a standard set of questions about your health.
If I stay in Robertson and my testing was done in Montagu, where is it registered if I test positive?
If you test positive it will be recorded in the town where you live. Sometimes you will note in the Premier's updates that some cases have been "reallocated". This means that the initial address on the patient file has been updated and that the case has been moved to the correct area.
How many people have been tested per town?
During May 2020 close to 12 000 people have been screened and 46 were referred for testing as part of the Community Screening and Testing initiative in the Langeberg. This is above and beyond the screening and testing done at our facilities. Stats about the number of tests are available on the Premier's dashboard (www.westerncape.gov.za/coronavirus).
When and where are tests conducted?
All nine of Western Cape Government Health's facilities in the Langeberg (hospitals and clinics) offer screening and testing.
If you think you may have COVID-19, you can:
• Complete the self-assessment at https://coronavirus.westerncape.gov.za/risk-assessment-covid-19; or
• Call the hotline 021 928 4102; or
• Call your clinic or doctor's office. Screening can be done telephonically.
If you want to go to a clinic or your doctor because you think you may have COVID-19, always phone first. This way they will prepare to receive you and limit your contact with others at the facility. However, if you are struggling to breathe, get help immediately.
Why is there a difference in the case numbers published by the Premier and Langeberg?
The data published on the Premier's dashboard (www.coronavirus.westerncape.gov.za/covid-19-dashboard) is a reflection of information from Western Cape Government Health's facilities as well as information from the private sector. Cases are reallocated as individuals' addresses are updated and fed into the system.
The differences in data are not big enough to affect the action that needs to be taken. Always cover your mouth and nose with a cloth mask when leaving your house. Always follow the 5 Golden Rules:
1. Regularly wash your hands with soap and water for 20 seconds
2. Wash your hands before touching your face
3. Cover your cough and sneeze with a bent arm or a tissue
4. Stay 1,5 m from others at all times
5. If you feel sick, stay home and call for medical help.
The statistics show zero active cases in my town. Does that mean we have no positive COVID-19 cases?
Zero active cases do not mean there are not people in the community who have COVID-19. Some people who have COVID-19 do not experience symptoms so they may not be aware that they have COVID-19. Others may be in self-isolation while they await test results. Regardless of the latest statistics for your area, be vigilant. Wear your cloth mask if you really need to leave your house and continue to follow the 5 Golden Rules.
Should I take precautions even if there are no known positive cases in my town?
To stop the spread of COVID-19 everyone has a part to play. As part of the Whole of Government approach all government departments have specific responsibilities, and all of society has to pull together to reduce the spread of COVID-19 and to minimise its impact on our communities. Everyone has to be on high alert and they need to take full precautions now.
In what area of my town is the positive case?
COVID-19 spreads quicker than the flu so you have to be vigilant regardless of where the positive cases are. Anyone can get COVID-19 regardless of your age, race or where you live. It is not a shame to be tested for COVID-19 or to test positive. Show your support for people who tested positive by staying in touch telephonically (because being in isolation can be lonely) and offering to go to the shop for them for essentials like food and medicine. You can leave it at their front door.
Keep an eye on https://coronavirus.westerncape.gov.za/covid-19-dashboard for updates.
Please note the following:
Langeberg Municipality will remove and or block any comments or profile that speculates or alludes to positive cases of either people or organisations in the Langeberg Municipal area. We only share verified information on our platforms to ensure the information is correct at the time of publishing and or sharing.
Anyone that creates or spreads fake news about the Coronavirus COVID-19 is liable for prosecution. Please verify the information before you share information. Visit www.sacoronavirus.co.za for the latest COVID-19 information.
Report fake news through the Real411 website: www.real411.org or the Whatsapp line 067 966 4015.