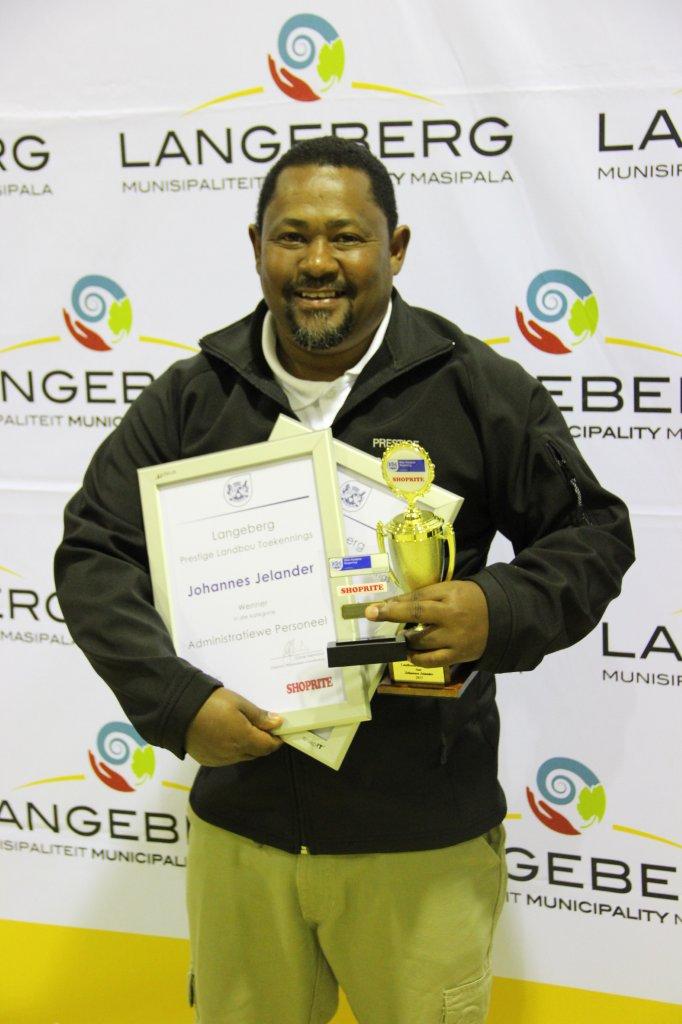 "It is my hearts deepest desire to own my own farm". This is the dream that an excited Johannes Jelander (39) from Graham Beck Wines shared with his colleagues in the industry as he collected the most sought-after award at the Langeberg Prestige Agricultural Ceremony.
More than 250 guests attended the Gala-event on 07 September (2017) at the Callie de Wet Hall in Robertson.
Jelander began his career in the agricultural sector nearly 17 years ago at Graham Beck. He was employed on a part-time basis as a general worker before being promoted to Foreman.
Now, with his latest promotion as Technical Assistant at Graham Beck Wines, he entered into the Agri Awards with the same hope and dreams as several other agricultural workers.
Jelander stole the show after receiving two awards namely: Admin Personnel (1st Place) and Agricultural Worker of the Year.
"I feel really good. Thank you for this amazing award and recognition. I see this achievement as a measuring tool or a signal for me to start taking the next big step in my life," said Jelander.
The farm workers competed in a wide range of categories this year and the winners are: General Worker (Elton Jacobs- Excelsior Estate), Irrigation Specialist (Sylvester Abrahams- Bon Frutti), Tractor Driver (Hendrik Davids – Boesmansdrift), Animal Production (Christopher Uithaler – Highlands Stud), Technical Operator (Frans Brits - Retreat), Administration Personnel (Johannes Jelander- Graham Beck Wines), Social Development (Jenene- Graham Beck Wines), Foreman (Dawid Karelse- Weltevrede Wine Estate), Junior Management (Andries Manuel- Boesmansdrift) and Middle Management (Mintoor Booysen - Windkraal).
The award for Best Potential went to Roben Muller from Weltevrede Wine Estate.
Jelander's words of advice to his fellow participants were: "Don't be upset with your failed attempts. Learn from your mistakes and keep your focus on the positive things in life".
The G.B.Batt Riel Dance Group from the KOO entertained guests with a stunning traditional performance, whilst solo artist Johandré Scheepers, sang two songs which both moved the crowd.
Andries Baardman, Director: Rural Development Association, congratulated all the winners and participants for their efforts in ensuring that the local agricultural sector continues to flourish. He concluded by thanking all the sponsors and roleplayers for making this year's event a success.