Road projects in the Langeberg area

A major road upgrade project (Contract C818) from Ashton to Montagu through Cogmanskloof has been underway for over three years. Another road construction project at Bonnievale (Contract C820) has recently been completed. Two other road maintenance projects have recently commenced on adjoining road sections.

Contract C1089 entails the repair and resealing of the R60 from the Nuy Valley, just east of Worcester, to Ashton. The project also includes the maintenance of 11,8 km of the R317 from Robertson to the Cogmanskloof Bridge, halfway between Robertson and Bonnievale.

Contract C1091 entails the resealing of the R60 from the turnoff to Swellendam, just east of Ashton, for 31,2 km. The project also includes the resealing of Provincial Main Road 287, as well as the resealing of 6 km of Provincial Main Road 288 (a link road to the R60).
Location of the three road construction projects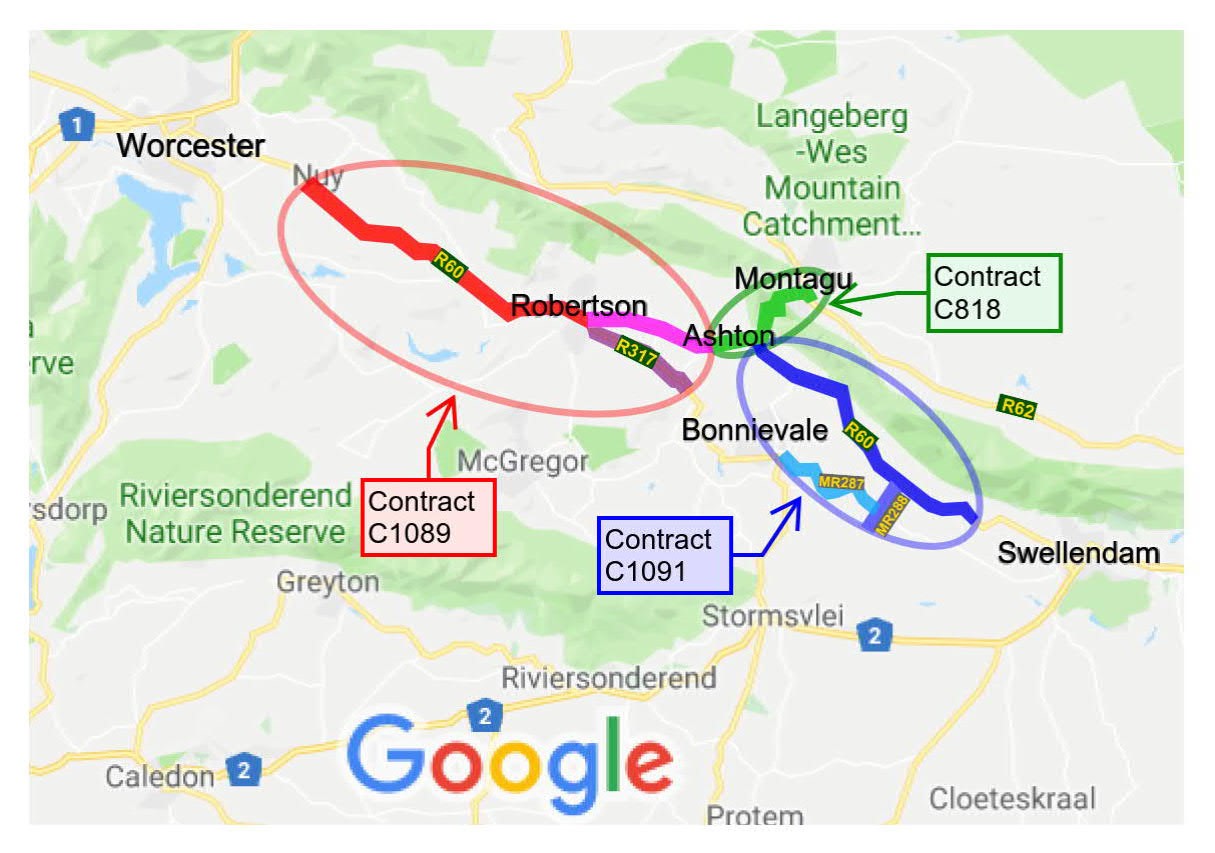 The road authority for all three projects is the Western Cape Department of Transport and Public Works. Consulting engineering firms were appointed to design and administer the three projects. After a tendering process, contracting firms were appointed to implement the projects.
The individual teams on the three projects are in contact with each other and will endeavour to minimise the impact on the travelling public whenever possible.
To report any traffic problems due to the construction work, the public can contact the individual Traffic Safety Officers (TSO) operating on the projects. The contact details are contained in the project summary table.
Summary of the three projects
Contract

Description of affected roads

Western Cape Government road sections

Client

Consulting engineers

Contractor & TSO details

Period

C1089

Resealing of portions of:

Dept. of Transport and Public Works

BVi

WBHO Construction

TSO:

Cola Lebaje

063 366 5574

Oct 2018

to

Jan 2020

$1Ÿthe R60 (east of Worcester to Robertson)

$1ŸTR31/1 km 13.58 to km 45.67

$1Ÿthe R60 (Robertson to Ashton)

$1ŸTR31/2 km 0.00 to km 15.68

$1Ÿthe R317 (Robertson towards Bonnievale)

$1ŸMR287 km 2.69 to km 14.50

C818

Rehabilitation of:

Dept. of Transport and Public Works

AECOM

Haw & Inglis Civil Engineering (previously Basil Read)

TSO:

Zavior Fourie 071 855 8669

Aug 2015

to

Mar 2021

$1ŸAshton Main Road (R60)

$1ŸTR31/2 km 15.00 to km 19.7

$1ŸR62 through Cogmanskloof

$1ŸTR31/2 km 19.7 to km 27.22

$1ŸLong Street, Montagu (R62)

$1ŸTR31/3 km 0.00 to km 1.4

$1Ÿa portion of Van Riebeeck Street, Montagu

$1ŸDR1373 km 0.00 to km 0.98

C1091

Resealing of portions of:

Dept. of Transport and Public Works

Element

WTW Civil

TSO:

Drey Msini 073 961 6276

Nov 2018

to

Mar 2020

$1Ÿthe R60 (Ashton towards Swellendam)

$1ŸTR32/1 km 0.00 to km 31.20

$1Ÿthe "MR287"

$1ŸMR287 km 32.00 to km 45.31

$1Ÿthe road linking "MR287" to the R60.

$1ŸMR288 km 0.00 to km 6.00