It is important that families and funeral undertakers acquaint themselves with the different risk levels and the applicable regulations. These regulations might change whenever the alert levels are adjusted and it would determine movements between provinces, metropolitan areas or district municipalities and where to obtain the required permits for travelling to and from funerals. Section 35 of the Regulations: Alert Level 1 during Covid-19 Lockdown clearly stipulates how funerals should be conducted. Complete guidelines available at www.langeberg.gov.za
Attendance at a funeral is limited to 100 persons and is not regarded as a prohibited gathering.
Night vigils are prohibited.
During a funeral, all health protocols and social distancing measures must be adhered to in order to limit exposure of persons at the funeral to COVID-19.
after-funeral gatherings, including "after- tears" gatherings.
Funeral Arrangements
All COVID – 19 related funerals in Langeberg Municipal area should take place within 7 days. If the seventh day is on a Saturday, the funeral can take place the preceding Friday. However, if the seventh day is on a Sunday, the funeral can take place the next day.
No community halls will be available for funeral services.
An attendance register of all mourners, stating full names, ID numbers, addresses and contact phone numbers
must be kept and submitted to the municipality for contact tracing purposes.
Day of COVID-19 funeral
Cremation is recommended where a person has passed on due to COVID-19.
A burial or cremation of the mortal remains of a person who died of COVID-19 must be carried out in terms of the Human Remains Regulations.
Burial services should not exceed two hours.
Only close family members should attend the funeral of a person that died of COVID-19.
A COVID-19 patient should not attend a burial service irrespective of his or her relationship with the deceased
The local SAPS office must be informed of all funeral services taking place.
Cemeteries
There are 15 cemeteries in the municipality and while the capacity might vary, there is no specially designated cemetery for those who passed on due to Covid-19. Families are encouraged to work with their selected funeral undertaker to ensure that all paperwork is submitted and payments are made timeously to ensure no disruptions with their respective funeral arrangements.
Undertakers need to contact the call centre at 0860 88 11 11 or This email address is being protected from spambots. You need JavaScript enabled to view it.
PLEASE SEE CEMETERY TARIFFS FOR JANUARY 2021 BELOW: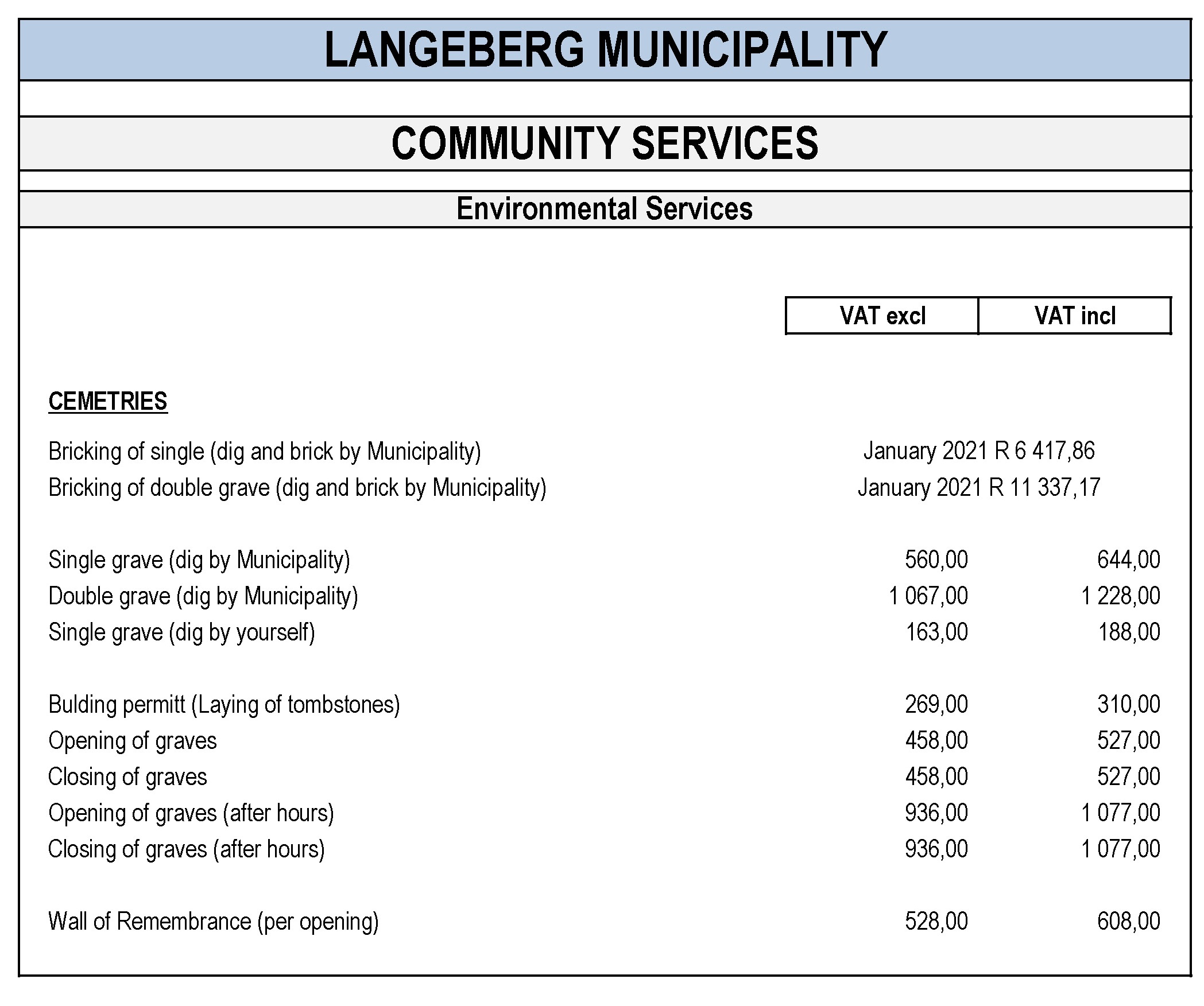 LANGEBERG MUNICIPALITY BANKING DETAILS
Bank: ABSA
Branch: Montagu
Branch Code: 334513
Account Number: 105 00 00 00 8
Type: Cheque
Ref: Graves and name of deceased