The Transnet-Phelophepa Healthcare Train brings health and hope to citizens that are in need of access to health-care facilities from 17th to 21st 2021, and again from 24th to 28th May 2021
The Healthcare Train helps thousands of rural South Africans annually in need of access to health-care facilities.
The Phelophepa Train services include a healthcare clinic, eyecare clinic, dental clinic, and a counselling and psychology clinic.
Free healthcare services offered include:
Healthcare education
A complete physical assessment
Patients pay R5 for the entire script of medicines.
Eyecare clinic services include:
Free eye tests
Spectacles @ R30. The eye clinic does not issue bi-focal lenses.
Eye drops @ R5.
Note: The eye clinic does not offer eye operations.
MEDIA RELEASE
Counselling and psychology clinic services include:
One-on-one sessions
Workshops targeting schools, communities, workers, teachers
Topics covered include leadership, drug and alcohol abuse, sexuality and tools to deal with physical and emotional abuse
Dental clinic
Free screening and education
Extract and cleaning of teeth @ R10
All services are offered on a first come, first served basis.
Bring along your clinic card and child's immunisation certificate.
Pleas continue to take your CHRONIC medication before and after you have visited the Train
All the health services are free to children 15 years and younger.
All students under the age of 18 must be accompanied by a guardian
All students in grade R Grade 3 in Ashton schools will be have a eye and dental screening done at their schools
The train opens at 08h00 and closes at 14h30. Each patient will be issued with a sticker upon their arrival. Patients are encouraged to come early. Strict Covid protocols will be observed.
The Phelophepa train arrives in Ashton on 15th MAY 2021 and opens for service to the public on Monday 17TH May 2020 at Ashton Station.
Services will end early on Friday 28th May , the last day of the Ashton stay.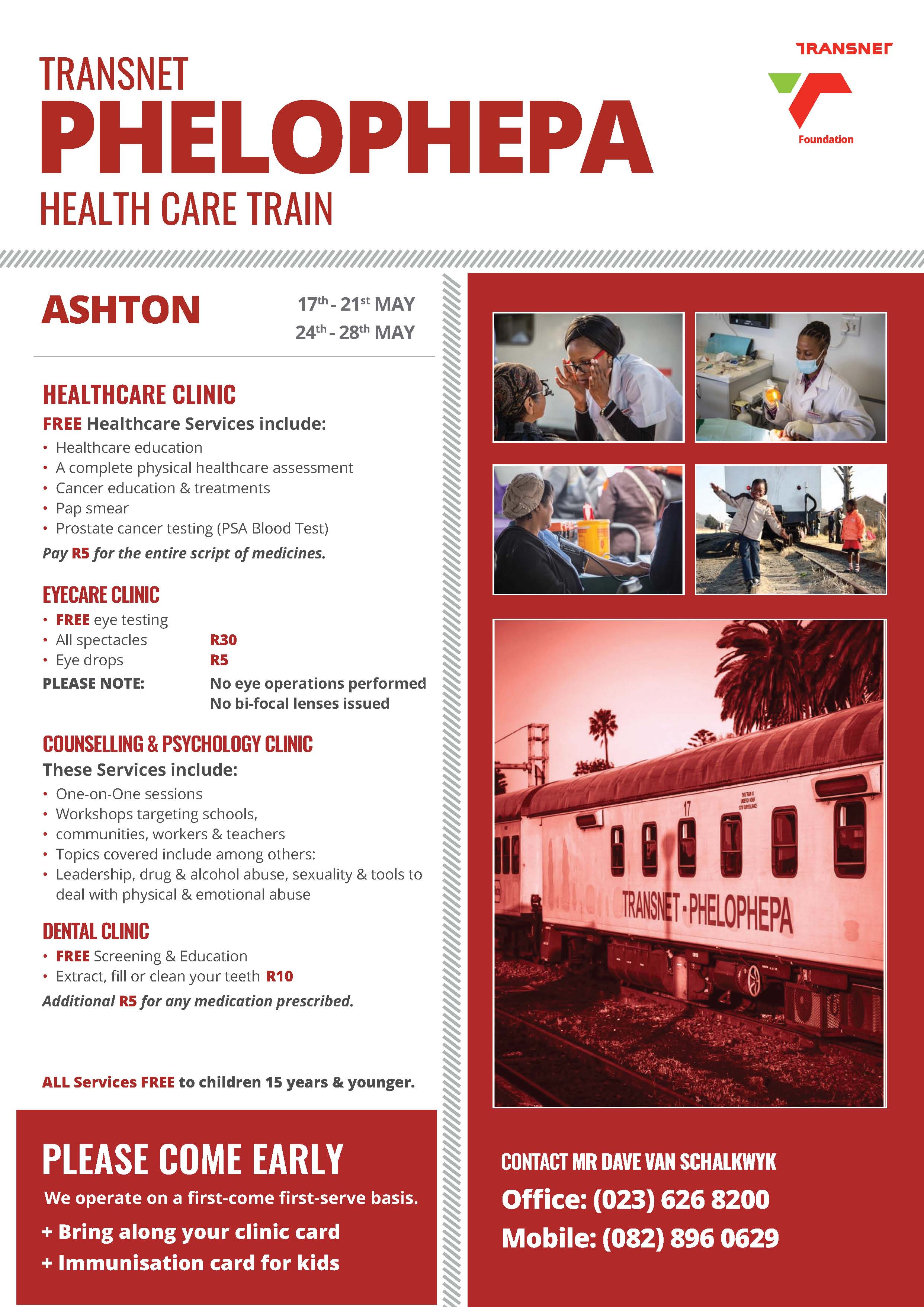 ALL Services FREE to children 15 years & younger.
More information about the Transnet Phelophepa Health Care Train can be obtained from Dave van Schalkwyk at Langeberg Municipality at 023 626 8200 or 082 8960 629 or This email address is being protected from spambots. You need JavaScript enabled to view it..