Just like the Camino in Spain, the Pilgrimage of Hope is a journey to seek inner peace and find hope. The routes are set out throughout South Africa, inspired by the stories of faith communities and specifically designed to take pilgrims past churches and other places of spiritual and cultural significance.
The Robertson-Cape Agulhas route starts at the Dutch Reformed Mother Church in Robertson and end at the lighthouse at Cape Agulhas. The tour can be walked or cycled in group sizes of 4-8 people with luggage transfers available. Each pilgrim receives a pilgrimage passport and at various places along the route the passport can be shown to receive a stamp as proof of the visit.
The Robertson route is about 240km, ideally done over 11 days. You can however choose any amount of days according to your pace. You can even do it over a few weekends and pick your starting point and final destination.
Pilgrims need to be well prepared and fit to walk about 15 - 27km per day for consecutive days. The walking terrain vary from mountain paths, to steep uphill climbs and long distances on beach sand.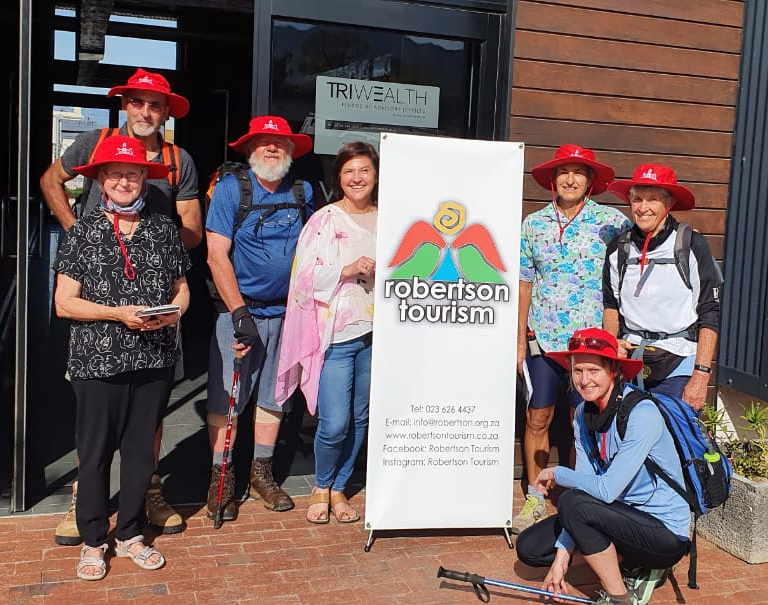 Photo Caption: Pilgrims are recognisable by their red hats. This group was welcomed at the Robertson Tourism Office and received their first stamp in their Pilgrimage Passports on 11 October, as they left on their route to McGregor.
The next accompanied Robertson to Cape Agulhas route is planned for 27 November - 08 December 2021.
You can walk the Pilgrimage of Hope in two ways:
(1) Register at www.pelgrimstogvanhoop.com and order a manual (the new edition will be available soon), red hat and pilgrim passport at Communitas and plan and book your pilgrimage yourself - preferably three or more hikers or
(2) use the booking service Pilgrim Assist which handles your registration, bookings for accommodation and meals, luggage transport etc. on behalf of you and your fellow pilgrims and also provide 24/7 support during the pilgrimage via WhatsApp.
Visit the website at www.pelgrimstogvanhoop.com.