Do you know a good 'go-to' person that can inform you about municipal matters?
The role of my Ward Committee Member?
Promote community participation: Your ward committee member must inform you and make you part of municipal decision-making processes. For example, the Integrated Development Plan (IDP) process, the budget, policies, by-laws, council projects, etc.

Identify and initiate projects that improve the living conditions in your block.

Monitor performance of the municipality.

Ensure quality service from council

Assist with awareness processes and programs.

Encourage good relationships between the community and council.
Ward Committee Member Nomination criteria
Must be 18 years and older

Must be a registered voter

Must live in your block (a ward is divided into geographical blocks)

No arrears on municipal account for longer than 3 months

Not be in service of the state or an employee at Langeberg Municipality

Not be sentenced to imprisonment, without an option of a fine, for twelve months or more

Not be a person of unsound mind (declared by a court)

Representation should reflect gender equality
Nominate your non-political representative
Only one nomination per person can be made. Nomination forms must be completed in full and signed by the nominator and the nominee.
Nomination forms will be available at any Municipal office, library, the municipal website ( pdf English: click here (85 KB) , pdf Afrikaans: click here (85 KB) ) and the public information sessions that will be held in each ward.
Completed nominations must be submitted at any municipal office in the marked "Ward Committees" submission box before 10 January 2022.
The nomination process: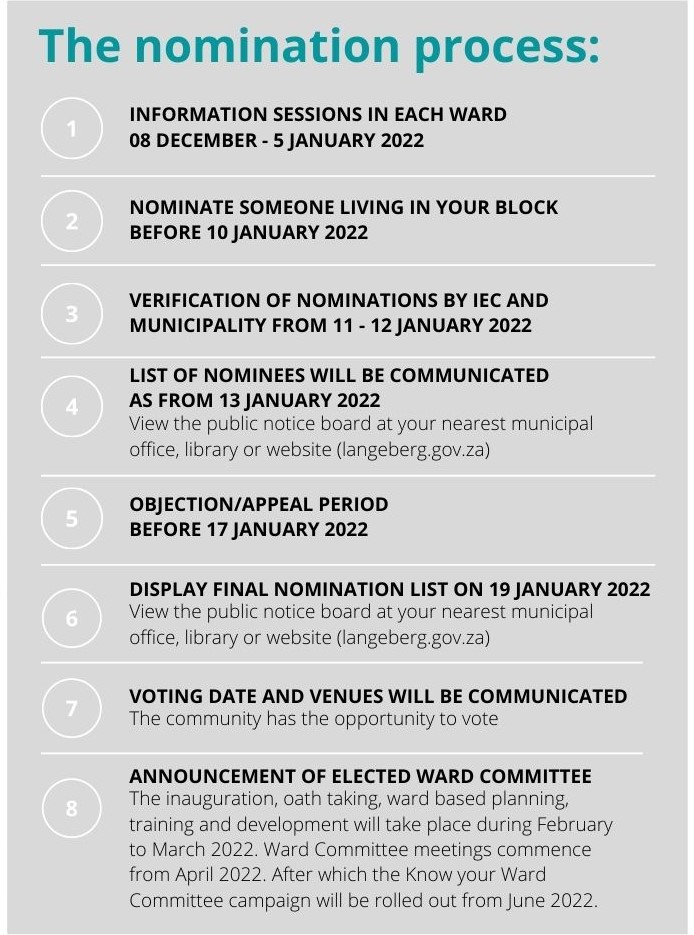 GET INVOLVED IN COMMUNITY DEVELOPMENT
Residents are requested to attend their block and community meetings, get involved, insist that the ward committee discuss important community issues and submit their input to the councilor.
Ward committee members are encourage to convene a block meeting in their respective blocks each quarter to give you the opportunity to pass on your needs and problems to the ward committee member and also to receive information/feedback.
A quarterly community meeting is also convened in each ward by the ward councilors.
A Ward Committee member must once a month attend a ward committee meeting held in the evenings after working hours and lasts about 1-2 hours.