FIELD AUDITORS WILL SOON VISIT YOUR PROPERTY TO AUDIT ELECTRICAL METERS
Langeberg Municipality has appointed Syntell, to undertake a complete door-to-door audit of conventional and pre-paid electrical meters at all households and businesses in the Langeberg area from October 2023 to November 2024.
All STS prepaid electricity meter software in South Africa are in the process to be updated to prepare for a Token ID (TID) Rollover on 24 November 2024.
The unique 20-digit number you receive when you purchase pre-paid electricity is called a token and cannot be used more than once. The unique Token Identifiers (TID's) used to identify each electricity credit token will run out of available numbers on 24 November 2024. This implies that all prepaid meters must now be configured to accept the new STS Edition 2 tokens that will be generated from 24 November 2024. If this is not done, the prepaid meter will not be able to accept tokens and the user will be left without access to electricity.
This project will assist residents with the software upgrade of all STS prepaid power meters as the Eskom do-it-yourself method will not apply to Langeberg Municipal households.
Residents must only allow authorized field staff with an official identity card to enter your premise and access your electricity meter.
Field Workers could change throughout the project timeline. View the most recent updated pictures of the field auditor team that will visiting your property on the Langeberg Municipal Website below.
THESE FIELD AUDITORS COULD SOON VISIT YOUR PROPERTY TO UPDATE YOUR PREPAID METER: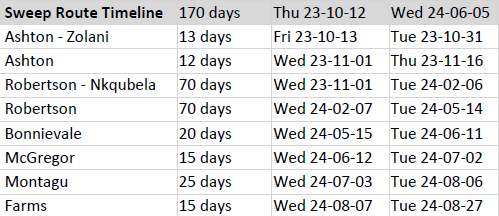 The Syntell visit to your property will involve the following:
• An inspection of the electrical meter
• User data information collection
• Re-programme and enter special pair of key change tokens to existing electricity prepaid meters
so that the meter continues to work after 24 November 2024.
Prepaid meter users will need to recharge any vouchers you have already purchased. Once you have rolled over your software your prepaid meter will not accept any old tokens, so you must input any pre-purchased vouchers.
A token ID (TID) generally have a life span of 31.9 years, after which the meter must be reset and the meter key must be changed to prevent old tokens from being used again. Existing vending keys are linked to the 1993 base date and a key revision of 1 i.e. STS Edition 1. For this base date the token ID (TID) reaches its end of life on 24 November 2024. This is the 2024 Token ID (TID) Rollover
STS Edition 2 vending keys are instead linked to a 2014 base date and a new key revision. For this base date the TID reaches its end of life in 2045. All STS products (old and new) must comply with STS Edition 2 before 24 November 2024.
For more information, please contact Langeberg Municipality at 0860881111 or Syntell Service Desk at: Phone: 0218121877, WhatsApp: 0727289229, or Email: This email address is being protected from spambots. You need JavaScript enabled to view it.